4Uth 2018 winners
The Nottinghamshire Outstanding Achievement Award 4Uth is a Nottinghamshire County Council initiative to celebrate the achievements of young people across the county.
A 'super seven' of young people from across the county have been named as the district winners of Nottinghamshire County Council's Outstanding Achievement 4Uth Award for 2018. Each winner will receive their prize at a special ceremony at Nottinghamshire County Hall on Friday 26 October, where the overall countywide winner will also be crowned.
There were approximately 80 nominations for this year's winner – with entries received from friends, family members, youth workers and people who work in a range of voluntary, public sector and other organisations. Judging panels in each district decided the winners from three nominations in each district, and a separate judging panel assessed the final seven.
All images are courtesy of Ian Dearman Media.
Find out each winner's inspirational story below.
Broxtowe winner: Luke Titterton
Luke is 12 and lives in Chilwell. He was jointly nominated for the award by Julie Francis and Samantha Neal. Julie is a teacher and Samantha, a learning mentor at Alderman White School. Julie and Samantha nominated Luke because of his resilience and ability to overcome significant barriers due to by profound disability to make remarkable progress at school.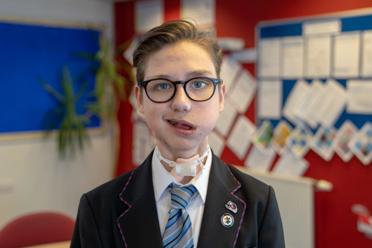 Julie said: "Luke was born with a tumour that encompassed the majority of his body. This was removed by Queen's Medical Centre at eight days old, and left Luke with life lasting conditions, including a tracheostomy and gastrostomy. He requires 24 hour care as he cannot breathe naturally. At five years old Luke received an additional diagnosis of Asperger's Syndrome.
"Despite these challenges, Luke has always attended mainstream schooling whilst receiving extra support from teaching assistants, including all of his medical care and needs."
Samantha added: "Luke has been central to guiding us in creating an innovative learning environment within school called 'The Haven', which is an autism friendly classroom that has been audited by Autism East Midlands, and endorsed by health professionals as best practice. It is a fully inclusive unit for vulnerable and anxious students and without Luke this would not have been possible."
Luke has already achieved two outstanding progress awards (despite having difficulty with memory retention). He was also the Flag Bearer at The Awareness For Autism annual charity football match in Nottingham.
Samantha added: "Luke has become a model of resilience for other students who gravitate towards him, particularly with regards to his art work. He has become a popular member of our school community and his sense of humour and positivity are remarkable." Julie concluded:
"We definitely think that he stands out from other young people and, in his own words, he is very proud to be nominated."
Luke lives at home with mum Amanda, dad David, and sister Yasmin, 23. Mum Amanda said: "We are all really shocked and didn't think that Luke would win this award as he was up against a lot of worthy young people who have done fantastic things. Just two per cent of children born with cystic hygroma survive so Luke has overcome the odds and we are so proud of him."
Councillor Tracey Taylor, Vice-Chairman of the Children and Young People's Committee, at Nottinghamshire County Council, said: "From birth, Luke has had to battle with a number of health conditions but he has always been positive, determined and resilient and is an inspiration to others, especially at his school. Luke and his family can be so proud of his achievement and he is a very worthy winner of the district 4Uth award for Broxtowe."