Free Swimming In Broxtowe
Those aged 17 and under will be able to swim for free once again this summer as Liberty Leisure Limited continues, to provide the scheme throughout the school summer holidays.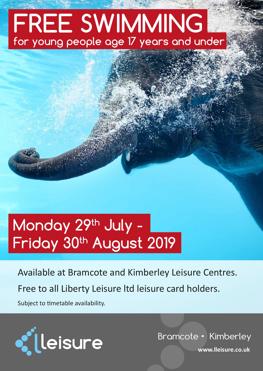 Free swimming will be on offer to all holders of a valid Liberty Leisure Ltd leisure Card from 29th July to 30thAugust at Bramcote and Kimberley Leisure Centres.
"The Borough offers excellent facilities for swimming at its Bramcote and Kimberley Leisure Centres which are both extremely popular and well-used. Making sure that children learn essential skills like swimming and get into the habit of keeping active at a young age is incredibly important so I hope that families across Broxtowe will take advantage of this over the summer holidays" said Councillor Ian Tyler, Chair of the Leisure and Health Committee.
The free swimming initiative, which will run throughout much of the summer holidays, will encourage newcomers to swimming to take to the water alongside those who have not swam for a while.
Young person's Leisure Cards, which are available to borough residents at a annual charge of £5, will provide access to the free swim scheme throughout the summer holidays.
To apply for a Leisure Card please pick up a membership application form from any of our leisure centres.