Over 200 Chicks Fledge From Bramcote Hills Park
A nest box programme has seen 218 chicks fledge from boxes installed at Bramcote Hills Park.
This is the second year the volunteers have erected and monitored 31 nest boxes in the woodland at the site, including one experimental three compartment box.
The boxes are made from recycled timber and are designed to help provide suitable homes for our feathered friends.
A volunteer group group spent the winter months building and putting up nest boxes and over the spring and summer, Blue Tits and Great Tits have been making the most of their new homes to bring new life into the world.
With hundreds of hours of volunteer time invested in the project, the group monitored the boxes and the birds that nest in them and their breeding success. Whilst on the visits they also found three Jackdaw chicks in a large natural cavity in a tree. All of this information, together with anecdotal reports from other visitors to the site will be passed on to the British Trust for Ornithology (BTO) as part of their nest record scheme, providing valuable data to help monitor the health of our bird life nationally.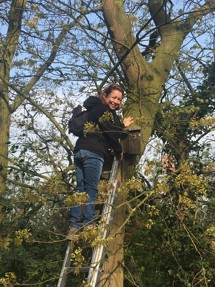 Last year 181 chicks fledged from 27 boxes.
Becky Dakin, one of the volunteers said: ""I've loved helping with the project, from building the boxes to seeing the chicks fledge. Being mindful in nature together with a lot of walking and climbing has made a noticeable improvement to my health and well-being".
The project is already benefitting the local wildlife and is a great partnership between the local volunteers, Broxtowe Borough Council and the BTO. The Council is looking forward to working with the volunteers to further benefit the local wildlife in the 12 Year Green Flag Award Winning Bramcote Hills Park.
Why not visit your local park or open space this weekend and see what wildlife you can find?